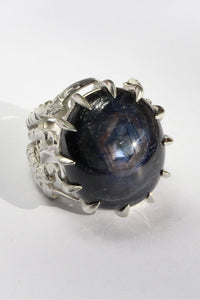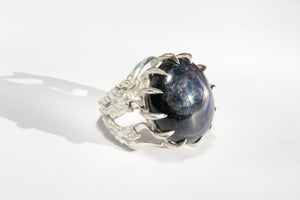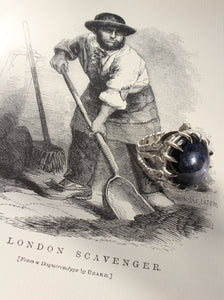 MAGPIE MACROCOSM DYAD LOOT RING
Regular price
Sale price
£1,200.00
Tax included.
---
Magpie Feet Shank Ring Talon Set with a 68Ct Zoned Cabochon Sapphire   
  Handmade

  Sandwashed Matt Finish

  Talon Set 68Ct Zoned Cabochon Sapphire

   Distinctive Ring Shank combining a Pair of Magpie Feet

   CE 925 Sterling Silver Assay Hallmark
…………………………………………………………….
UK Ring Size R
This ring is especially handmade and fitted to hold it's beautiful and high quality Zoned Sapphire gemstone. This design is an absolute bespoke one of a kind.
As unique as a Magpie's feather, our Zoned Sapphire Magpie Macrocosm Loot Ring will bring enchantment to whoever is lucky enough to wear it. Due to the unique nature of this Zoned Sapphire Ring, we cannot repeat this exact ring, but, we do have a varied selection of similarly captivating and unusual gemstones which we are happy to work to commission with to create a unique Magpie Loot Ring for you.
…………………………………………………………….
Folk-lore has many tales of Magpies acting as cheeky, thieving, feathered rascals who fly off with prized items of jewellery. This very special ring subverts these folk-lore tales by making a pair of Magpie's feet into the jewellery that any Magpie would surely make their loot!
Magpie's are known to gather in large numbers for what are known as Parliaments. These gatherings are mysterious and a lot of chattering takes place amongst the assembled birds. Magpies mate for life and it is thought that it is at these Parliaments where unions between the birds are made. These couplings are then blessed by the group and become pairings that will last them their lifetimes.
Historically Sapphires were thought to act as an amulet, protecting the wearer, promoting good health and warding off illnesses. Superstition has it that Sapphires help prevent winter blues and melancholy, whilst bringing confidence and wealth to the wearer. Royalty have been adorning themselves with Sapphires for centuries as status symbols and due to their rare and enchanting qualities, which are said to bring wisdom and an understanding of justice. 
The rare asterism present in our Zoned Sapphire Ring catches the light beautifully, creating an evocation of an endless galaxy. 
In English, the word 'Sapphire' derives from the Latin sapphirus, sappirus from Greek (sap-pheiros) and Hebrew (sappir). Some linguists propose that the word derives from Sanskrit, Shanipriya, from "shani" meaning " Saturn " and "priya", dear, i.e. literally "dear to Saturn". A traditional Hindu belief holds that Sapphires cause the planet Saturn (Shani) to be favourable to the wearer.  
With supposed powerful and transformative energy, Sapphires are alleged to connect the wearer with the universe, which is interesting to note considering the Sanskrit links to Saturn. 
It takes Saturn roughly 29 ½ years to orbit the Sun, spending around 2 ½ years in each astrological sign. Most people experience three Saturn return cycles in their lifetime, making Saturn a symbol of the wisdom which is endowed with age. The planet is known for its unusual planetary rings and visible storms which are referred to as Great White Spots. This rare phenomena occurs once every Saturnian year, which is approximately every 30 Earth years, with the next storm predicted to occur sometime this year.
The distinctive ring shank of the Magpie Loot Ring combines a pair of intertwined solid silver magpie feet which further accentuates the intrigue and rarity of this one of a kind design. 
…………………………………………………………….
Unmistakably English and unforgettable, Claire English Jewellery is hand-crafted in England, and is born out of a pure British eccentricity and a mischievous imagination.
Born in London. Made in England.